Let's say that you just found the job of your life.. Well if you're looking for a button in the account settings of your Shine account to remove your profile then, just as I did first, hold your horses. The reason? It doesn't exist.
I'll show you what you need to do to close your account permanently the right way on a desktop computer:
 1 

 After reading Shine's privacy policy…

I discovered that an account can only be removed upon request. Or as it is mentionned in Shine's privacy policy: Upon your request, we will close your account and remove your personal information from view as soon as reasonably possible (source: www.shine.com/privacypolicy).

In that same privacy policy their email address is mentionned: contactus(at)shine.com. So that's the email address we need to send our request to.
 2 

 Go to your email

and compose an email that requests a removal of your account. That email could be looking like this:

To: contactus(at)shine.com

Subject: Closure of my Shine account

Message: 

Dear Customer Service of Shine.com,

I want to request a removal of my account on your website. 

> Reason: I found a job in meanwhile
> My email address associated to the account: [Your email]

Thanks in advance to confirm me the removal of my account

Kind regards,

[Your name]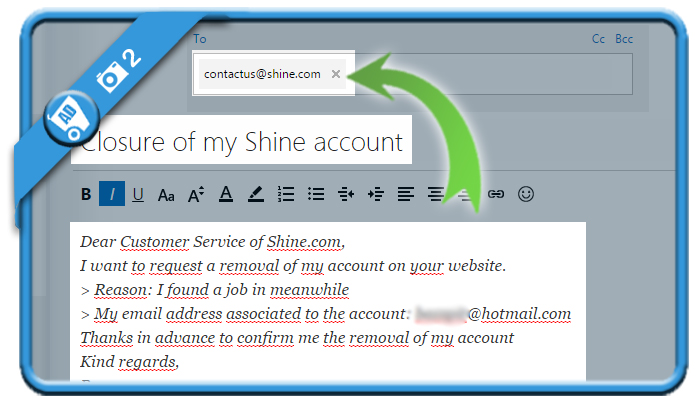 ✅ 

 Result

The customer service will confirm you the removal of your account after a few days.