If you want to close your account on Quikr.come, a website in India that contains free ads and posts, I can tell you 2 things:
Their website doesn't offer a Delete option
They have an

alternative

: Blocking. The result is almost the same as a permanent removal.
 1 

 What is blocking?

The Quikr support explained me in the email below that blocking means that your mobile number and email address get blocked by them.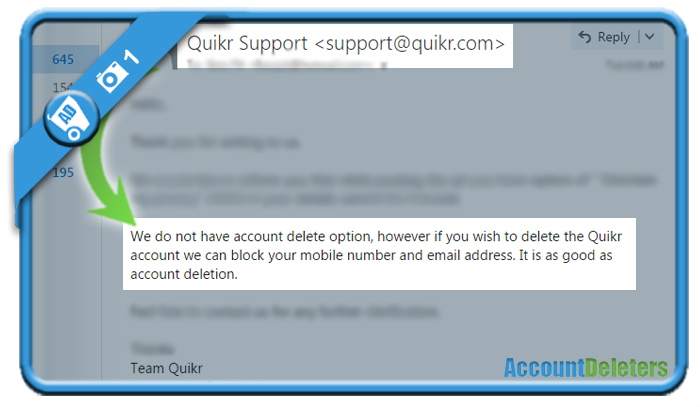 Ok, but how do I get my account blocked then?
 2 

 All you need to do, is open your email account and send an email to [email protected]

But first of all, what do you need to mention in your e-mail?
Subject: Request to block my account
Message: A correct request to block your account needs to contain 3 things:

Information about the account that you want to delete: All you need to mention is your 

email address that's associated with the account

and your 

mobile phone number

Reason(s) for removal: e.g. I'm not using it anymore,didn't work as expected, duplicate account,…
Last but not least: Send this request from the email address that's associated with the account (for security reasons)
Example of what this message could look like:
Dear Quikr customer support team,
I'm not using Quikr anymore, so I would like to ask you to block my account.
My email address: (fill in your email address)
My mobile phone number: +91 XXXXXXXXXXXX
Thanks in advance for keeping me posted about my request.
Kind regards,
(your name)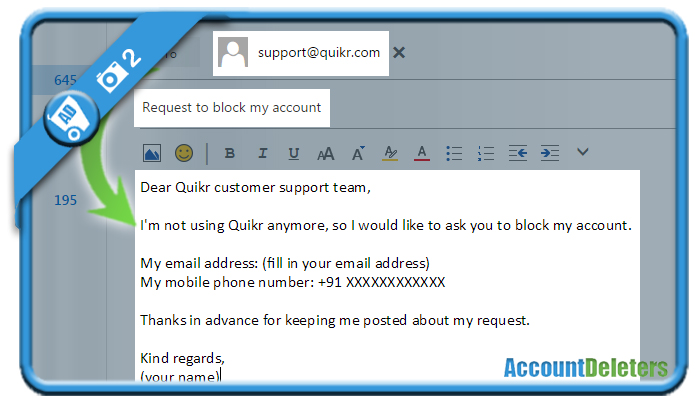 *Source (& thanks to): quikr.com