If you want to stop using the IG.com website, a broker website that's all about trading and stockbroking, I can imagine that you also want to remove your account on their website. If that's the case, we're here to help and facilitate that process for you. All it takes to remove your profile, is a simple removal request by email to their support team.
Or at least that's what they told me while I was asking them how to close an IG account. I'll show you below what they can tell us about that.
 1 

 Open your email account and send an email to [email protected]

While I was asking them on this email address how to close my account, they told me that all I needed to do, was send them an email that I wanted to close the account.

But first of all, what do you need to mention in your e-mail?
Subject: Request to delete my account
Message: A correct removal request needs to contain 3 things:

Information about the account that you want to delete: All you need to mention is your 

email address that's associated with the account

and your

IG username

Reason(s) for removal: e.g. I'm not using it anymore, don't like trading stock, didn't work as expected, duplicate account,…
Last but not least: Send this request from the email address that's associated with the account (for security reasons)
Screenshot of the email in which they explain how to close an account: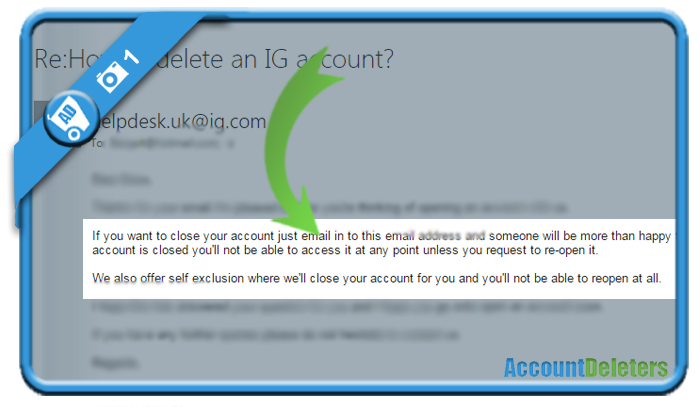 *Source (& thanks to): ig.com