Bet365 is one of the biggest betting websites in the whole world. As I'm someone who likes to place a bet now and then, I can only advise you to bet for a small budget (e.g. start with a budget of 50€).
But if you have a Bet365.com account and you feel like you're a danger to yourself, I can imagine you would like to permanently remove your Bet365 account. If that's the case, we're here to help and facilitate that process for you. All it takes to remove your profile, is an email to their support team.
 1 

 Is it possible to delete a Bet365 account?

Yes, it is. Their customer service team confirmed me by email that they can close your account. (Note: Although an account can be closed, it will always remain somewhere in their database for auditing purposes, but don't worry: all personal data are kept secure).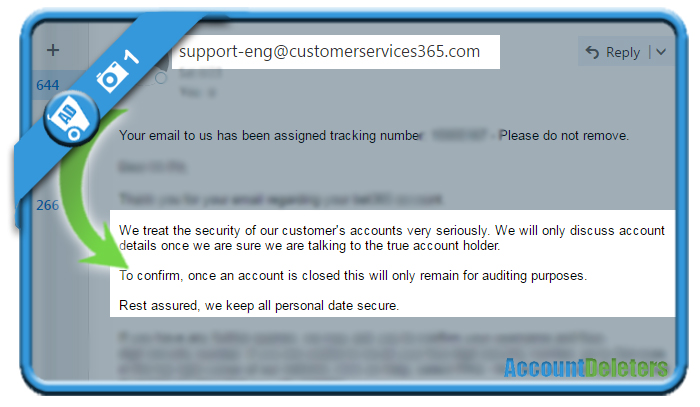 2 

 OK, how can I ask them to close my account then?

=> The best first step is to contact them by email.
Subject: Request to delete my account
Message: In your email to the customer service, you ask them to close your account and you need to mention your username. I would advise you to add in the email why you want to close it (e.g. you want to stop betting, you're a danger to yourself,…) as this information is useful to them to understand how they can improve their service.
 ✅ 

 Result

Their customer service works very professional so normally they will respond very fast to your email (in my case: 1 hour later!), but they will first check your identity, as they take the security of their customer's accounts very seriously.

So they will first check your identity to make sure they are talking to the true account holder, before they can move on to the next step of the account removal.

*Source (& thanks to): bet365.com