If you want to delete your account on forever21.com, the website of the online fashion retailer, you came to the right place. Because all it takes to remove your profile, is a simple removal request by email to their Support team.
We'll show you step by step what you need to do to close your account:
 1 

 Open your email account and send an email to the appropriate email address

=> What do you need to mention in this e-mail?
Subject: Request to delete my account
Message (example):
Dear Forever 21 support team,
Can you please delete my Forever 21 account as I'm not planning to buy online anymore? (I prefer the Forever 21 store in my city)
* Email address: (your email address)
* Name: (your name)
Thanks in advance for informing me when the account has been closed.
Kind regards,
(your name)
 V 

 Result

3 days later, I received an email from the Forever 21 support team. Their customer service will react very professionally and won't make a problem of the fact that you want to remove your account.

They confirmed me that my account had been deleted and closed.

=> good job by their customer care team and mission accomplished!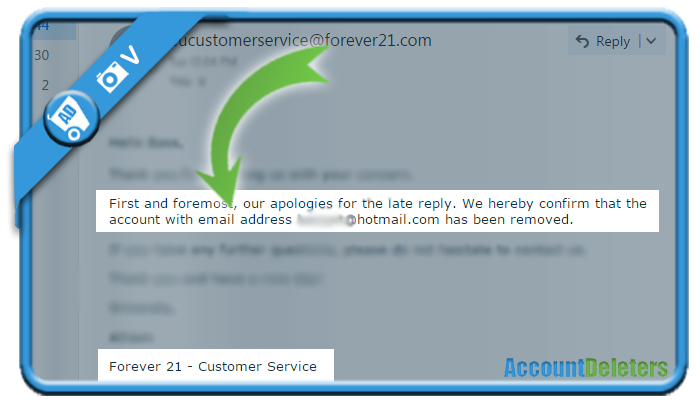 *Source (& thanks to): forever21.com & Nicole B. of the Forever 21 legal department for updating the article