If you want to close your account on Roblox, a website for people who like games and virtual worlds, you'll see in this manual that it's not an easy thing to do.
 1 

 I couldn't find an answer myself in my account…

So I went through all their FAQ pages.

There we can find a clear answer: "We currently do not have a feature for players to delete their accounts. If you no longer wish to play on your account, it will remain inactive until you're ready to play again. This way you won't lose anything you've built or created on your account." > Source: https://en.help.roblox.com/hc/en-us/articles/203313050-How-Do-I-Delete-My-Account-

It actually says: Leave Roblox behind and if one day you would change your mind, your account is still there.

Important: But before you leave, I would like to advise you to delete all of your personal data in the account to make sure that nobody would ever recognize your account or have access to your personal information.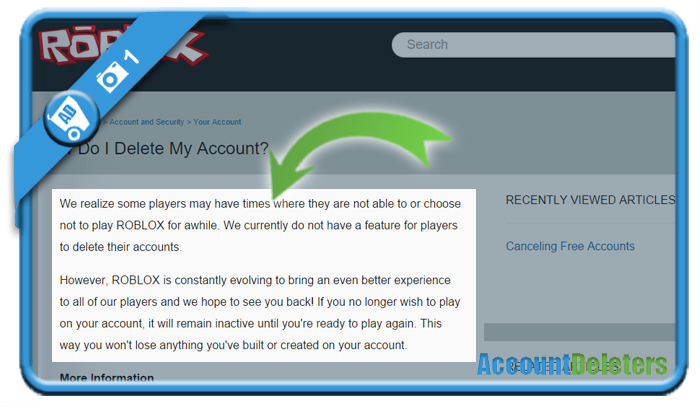 2 

 Ok great, but how can I do that?

Removing all your of your data on Roblox.com isn't really a hard thing do. Just follow these steps:
Go to https://www.roblox.com and sign in
Select the gear wheel and choose Settings
Now you will see of your account info. I would advise you to delete as much account information as possible, such as:

username
personal description
birthday
gender
country
Additionally there 2 other tabs that can be useful:
Social: To unlink your Facebook, Twitter, etc… accounts
Privacy: To make sure that no one can message, invite or follow you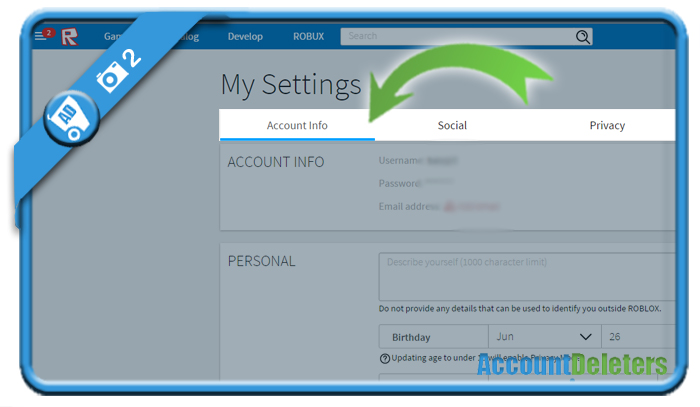 ✅ 

 Result

I know… It's frustrating to conclude that it's impossible to close an account, but it's the only option and by removing all your personal data, social and privacy information, you make the account as 'unrecognizable' as possible.

It's always better to leave the platform this way than to leave it with all of your personal data still in it.

*Source (& thanks to): roblox.com