If you want to delete your account on Paytm.com, a website and app to recharge online, I can tell you 2 things:
It's impossible

: It's not possible to have your Paytm account permanently removed, not even by written request to their support team.

There's an alternative:

Because they can block your account and by that, make sure no transaction can be made from this account.
Or at least, that's the information I received by email from their very adequate and fast responding customer care team ([email protected]):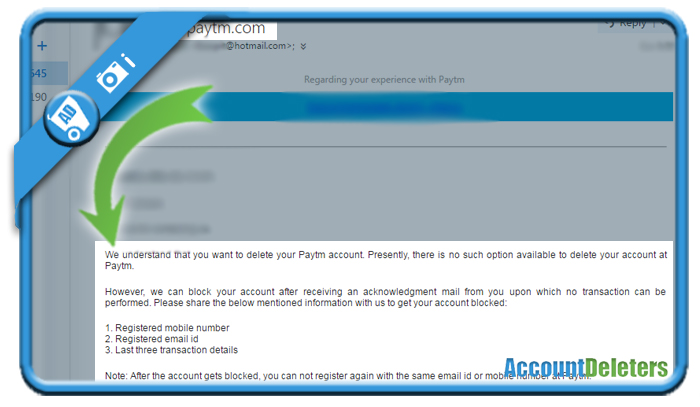 So if you want to close your Paytm account and block it, this is what you need to do:
 ? 

 Open your mailbox and write a new e-mail to [email protected]
Subject: Request to block my account
Message (example):
Dear Paytm Customer care team,
I have an account on Paytm that I'm not using anymore and I want to block it.
My email address is: (your email address)
My telephone number is: (your mobile phone number)
Last 3 transaction details: (if there were any, you can for example send them the data you performed your last 3 transactions)
Kind regards,
(your name)
 i 

 Once an account is blocked, it's blocked forever

That means that you won't be able anymore to register with the same email id or mobile number at Paytm.

Source (and thanks to): paytm.com