If you want to delete your account on Miniclip, a website where you can play free online games, you came to the right place. Because all it takes to remove your profile, is a simple removal request by email to their Support team.
We'll show some screenshots below on what you need to do exactly:
 1 

 Open your email account and send an email to [email protected]

=> What do you need to mention in this e-mail?
Subject: Request to delete Miniclip account
Message (example):
Dear Miniclip support team,
Can you please remove my Miniclip account?
 • Email address: (enter email address)
 • Nickname: (enter your username)
 • Date of birth: XX/XX/XXXX
 • Approximate date of creation of this account: XX/XX/XXXX
• The reason for your request to delete your profile: e.g. I created the account by accident
Many thanks in advance
Kind regards,
(Your name)
 V 

 Result

2 business days later, I received an email from the Miniclip support team, confirming that they received my removal request and that my account had been deleted immediately.Mission accomplished!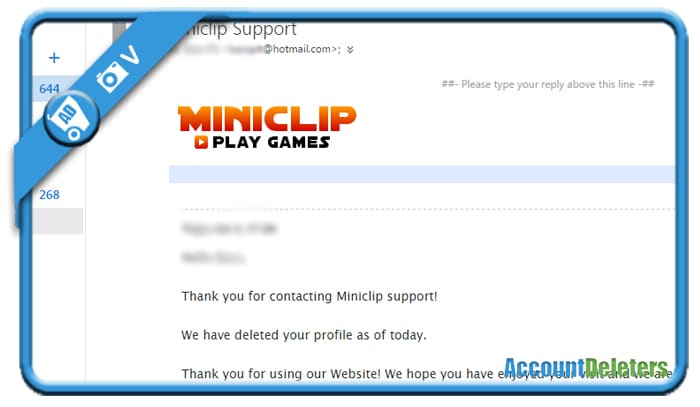 *Source (& thanks to): miniclip.com