Acorns is a micro investing platform and to be honest: I couldn't find a button or link to delete my Acorns account myself.
That's why I asked the Acorns Twitter team how I could close my Acorns account. I'm glad that they helped me out.
Below you'll find their answer and instructions on how to remove your profile:
 1 

 Email or call Acorns

The Acorns Twitter team clearly suggests 2 options to close your account:
Option 1 – Email: Email to [email protected] and request that they delete your account
Option 2 – Telephone: Call the customer care team at 855-739-2859 and they'll help you out
 2 

 Understand that they'll need to store 'some' information

We're talking about a financial app here so the SEC and FINRA require them to store some information, which is completely logical. As you can see in their answer, they'll do their best to delete the information they can if you ask them to. Great customer support experience!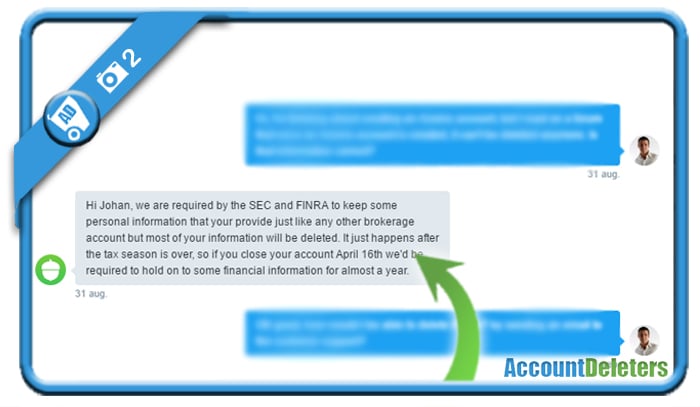 ✅ 

Result

Keeping in mind that this is a financial/investment company, it seems very normal to me that they can't delete all of your data.

But personally I'm very glad to see that Acorns offers 2 methods to remove most of your data and tries to help people. That's the we love to see it!

Source: My personal Twitter conversation with the very professional Acorns customer care team on Twitter